While wanting straight teeth most adults don't like the idea of  wearing braces that are permanently fixed in place for 12-24 months. Six Month Smiles allows you to improve the appearance of your smile dramatically.  The system uses white brackets and tooth coloured wires making it very discrete. After the initial period of adapting to them most patients find the braces both comfortable and effective.
Like most of our orthodontic treatments 6 Month Smiles focuses on improving the appearance of the smile without looking to reorganise your bite. This means that treatment can be faster than you might imagine, typically   around 6 months although this can vary depending on your aims.
Our team are happy to assess your smile and discuss all of your options for short term orthodontic treatment including, clear braces and Invisalign, 6 Month Smiles orr  Inman Aligners , to find out more just complete the form at the bottom of this page  and a member of four friendly reception team will get back to you.
We only use photographs of our own work on our web site that is reproduced with the kind permission of our patients. Our dentists have many years experience with this type of treatment and have a large portfolio of before and after photographs that demonstrate the types of problems that we can help with. Why not book a free consultation today or find out more about our dentists.
Request a Free Consultation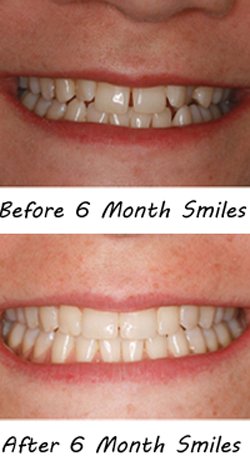 Six Month Smiles and tooth whitening  carried out by
one of our team of dentists in Edinburgh.