Adult Orthodontics
If you are looking for straighter teeth as an adult then Short term orthodontics may be the solution for you. Treatment  focuses on the teeth that you see in your smile and does not attempt to reorganise your bite, for this reason, is faster than, comprehensive orthodontic treatments that are still considered "best practice" for younger patients.
Our team have experience with may systems and offer our patients 3 clear options.
Clear Braces – These are discreeet removable clear braces.  Invisalign is the best known brand of clear braces,  aligners are  barely noticeable in use  and fit in well with your lifestyle
Inman Aligner  – the  Inman Aligner is  a removable aligner that is  best for limited tooth movements of the front 4 teeth.   Find out more and see examples
Six Month Smiles– Six Month Smiles – this is a fixed system and provides maximum control of the tooth positioning. Treatment times vary but are generally a little faster than with clear aligners. Braces are fixed in place and not removable by y Find out more and see examples
6 Month Smiles
The Inman Aligner is not suitable for everyone but our team can now also offer 6 Month Smiles treatment which is able to help patients who are not suitable for the Inman Aligner. We will be pleased to advise you on your own adult orthodontics situation. To find out more just book an appointment.
Traditionally squint front teeth have been a real problem, particularly for adult patients. While wanting straight teeth most adults don't like the idea of wearing braces that are permanently cemented in place for 12-24 months. At Craigentinny Dental Care you can now improve your smile in less time than you thought possible with braces in Edinburgh. 6 Month Smiles is one of many systems that use tooth coloured brackets and wires that are bonded to the teeth.
Like most of our orthodontic treatments, 6 Month Smiles focuses on improving the appearance of the smile without looking to reorganise your bite. This means that treatment can be faster than you might imagine.
The tooth coloured wires and brackets mean that your braces will be barely visible. Treatment time with braces in Edinburgh varies depending on the starting position of the teeth and on average takes around 6 months. Our team are happy to assess your smile and discuss all of your options for short term orthodontic treatment including 6 Month Smiles, Inman Aligners or Invisalign.
Inman Aligner + Teeth Whitening Result Examples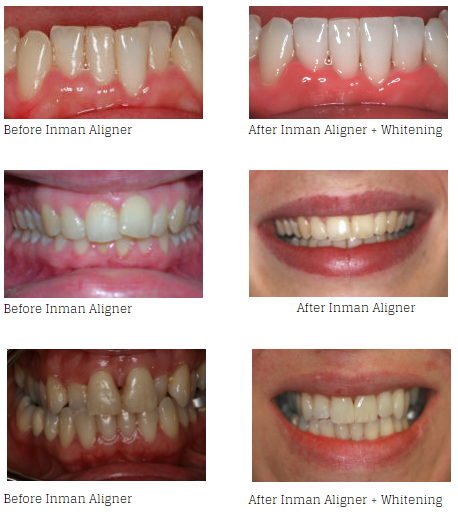 "I am delighted with the result. The process was trouble free and the staff at Craigentinny were so friendly and professional. I cannot recommend this treatment or practice highly enough." – Ms. K. R. London
"You couldn't have been more helpful. My only regret is that I didn't have the work done sooner!" – Mr. D. M. Edinburgh

Cosmetic Dentistry Enquiry