Replace A Few Missing Teeth With Dental Implants
Teeth can be lost at any age, often due to circumstances beyond your control. If you are missing a tooth or have missing teeth then there are usually 3 options to replace them. A denture, a bridge or an implant. This page is dedicated to what you can achieve with dental implants in our Edinburgh practice.
What is A Dental Implant?
A dental implant is something that is permanently fitted in the space where a tooth or teeth have been lost. It is made of titanium and hidden from view below the gum. An  Implant Crown is fitted on top of it. Our technicians work hard to make sure that your finished crowns look just like your own teeth. To make things easier still with our new digital technology we can build your implant solution in most cases without the need for traditional  impressions.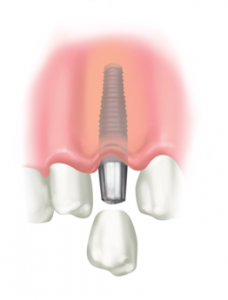 Dental Implants are  securely fixed in place so you will enjoy the confidence that comes with knowing that nothing will slip or move while you eat smile and chew. Something that cannot always be said about dentures. The crown that fits over the implant can be retained by a screw that is hidden or by using cement like a traditional crown.
When replacing single or small numbers of teeth Dental Implants have  many advantages. Unlike the situation with a  bridge there is usually no need to touch  neighbouring teeth. The implant crown  looks and feels very similar to a natural tooth. Almost every patient  who has dental implants  with us tell us how much they prefer the feeling of a solid implant in their mouth compared to a partial denture
Implant based treatments have one of the  longest life expediencies  and will normally outlast a denture or bridge significantly. Although not everyone is suitable for dental implants our team in Edinburgh can advise on the advances of technology meaning  that  more patients than ever before are now suitable for this type of treatment. Our team are on hand and happy to offer you a consultation to assess what options are open to you.
Cost and Budgeting for Dental Implants
We understand that dental implants are a significant investment which is why we offer a range of options including 12 months interest free credit or 24 / 36 month low interest options. You can replace missing teeth and enjoy the benefits of dental implants from as little as £80-£100 per month.
Exact costs vary depending on your own situation. When budgeting for  treatment it is important to factor in all of the elements that you will require. So even if you do not choose to come to Craigentinny for your care be sure to ask about the total cost of replacing a tooth or teeth not just the cost of the implant its self.
At Craigentinny Dental Care, a single tooth usually can be replaced for £1985 – £2500. This includes all necessary preparation visits, placement of the implant, AND making a final crown to blend in with your own smile. We always provide a full accurate written estimate  after treatment planning and  before commencing treatment.
If several teeth are missing we generally do not need to replace each and every tooth with an implant. For example 3 missing teeth usually only require 2 implants to support them.
To find out more we would like to invite you to join us for a 20 minute consultation where we can discuss your situation and explain how dental implants could benefit you. Book your consultation now.
Why Have Your Implants At Craigentinny Dental Care?
Quite simply, we are here for the long run, our Dental Practice in Edinburgh has been open for 25 years. The practice owners and many of the team have known each other and worked together more than 20 years,  so we will continue to be here on your doorstep to provide support maintenance and help whenever needed. While most implant treatment is uneventful, occasional complications do occur and our team is right here in Edinburgh ready to help should the need arise. Our senior clinicians are members of the Association Of Dental Implantology, the body that is generally credited with setting the standard in implant care in the UK.  All of our dental team also maintain full UK Licensing, and registration with the General Dental Council as well as extensive insurance for your peace of mind.
Dental Implants
Considering  dental implants in Edinburgh ? Then  at Craigentinny Dental Care  you will find dentists who will help you to achieve a great result in replacing missing teeth. Most patients with dental implants report that they  feel just like their own teeth and make speaking, smiling with confidence and chewing much easier than with  a denture. Best described as replacement roots for missing teeth, implants are made out of titanium and  are placed to  support a crown or bridge or stabilise a loose denture. Crowns and bridges are either cemented or screwed to the implant while dentures are attached with a "press stud like fastening. " The process involves placing an implant into the jaw  with a short surgical procedure. The implant it is left usually for 3 -6 months to heal and fuse to  the bone around it.  Once healing of your dental implant is complete, an implant crown, bridge  or over denture is made and fitted . At Craigentinny Dental Practice  Edinburgh  we always set out to  create  a situation where your dental implants and natural teeth blend together seamlessly so that no one can tell which is which in normal use.