Dental Implants in Edinburgh
At last – you can smile with confidence & finally eat the foods you have always wanted
Do you find it difficult to eat your favourite foods, or choose "easy to eat" foods on menus?
Are you embarrassed to smile, or do you suffer from confidence issues because of missing or loose teeth?
Are your dentures loose and do you worry about them falling out?
The good news is that we can help.
At we can offer a fixed solution with dental implants from one of the world's best selling dental implant companies.
The advantage for you is that you will regain your confidence, with the smile you have always  wanted. You would be able to eat your favourite foods without pain or discomfort and would be able to enjoy your life to the fullest.
Dental implants are a great way to replace natural teeth that are missing already or about to be lost. They are also widely misunderstood and misrepresented in the media so please take a little time to browse around our implant section of the web site to find out more. Take a look at the pictures below  and just click the quote that applies best to your own situation. You can also request our  free guide to implant treatment or book a consultation from this page.  Dental Implants are a great long term alternative and offer a number of advantages over more traditional treatments.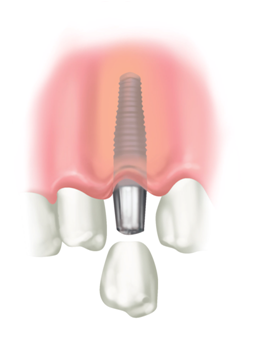 What is a Dental Implant?
Dental Implants are a fixed solution that feel and function much  like normal teeth, they don't move, meaning you can eat and smile with confidence. A dental implant acts as an artificial tooth root and is placed into the jawbone. A dental crown is then placed on the top of that root. Dental implants are made from titanium and are considered to be the most secure and reliable teeth replacement solution available today. In short there are the nearest thing to have your natural teeth back again.
What are the main benefits of Dental Implants?
Replace loose fitting- dentures
Maintain bone structure after tooth loss
Improve the appearance of your smile
Boost your confidence
Function and feel just like natural teeth
Improve chewing and speaking
Prevent bone loss
Long term solution
High success rate
Dental implant treatment is a well-established, safe and long-lasting teeth replacement solution. Replacing missing teeth is important in order to keep your teeth, gums and jawbone healthy. A face without teeth can change its shape over time. Dental implants help to retain your natural face structure and shape which can greatly boost your confidence.
Many patients describe their dental implants as being even as good as their original teeth in their strongest and healthiest state and tell us they now  enjoy  crunching  down on a crispy baguette confidently or eating a cool ice cream free from the fear of triggering an ache from sensitive teeth.
Implants can be used as part of a wide range of treatments options from replacing a single missing tooth to replacing all of the upper or lower teeth.
Patients  tell us that they most enjoy the return of their confidence. Do you like the idea of eating, smiling and chewing again with confidence after dental implants?
About Our Dental Implant Team
Our team of Dentists In Edinburgh believe that great communication is the best way to make sure you make the right treatment dental treatment decisions. We will be happy to provide as much information as you need to make informed choices about implant treatment.
As a practice, we are committed to building long-term relationships with our patients. That means that we will continue to be here to look after you and any implant treatment that you may choose for many years to come. Our practice has been open for 25 years and we are just getting started!  Our implant treatments are backed by our extended guarantees. Everyone on our dental team maintains full UK licensing and registration with the General Dental Council, as well as extensive insurance for your peace of mind. 
How Dental Implants Can Help You
Our team of Dentists In Edinburgh are members of the Association Of Dental Implantology and are here to help you find your way through this often confusing subject.
To find out more about how dental implants can help you and what is involved please the links opposite that best describes your situation.
Request your Free Implant Guide Here
Edinburgh Based, Quality, Dental Implant Treatment
More information on Dental Implants
Dental implants are a great way to stabilise a loose denture or to replace one or multiple missing teeth. Implants are made from biocompatible titanium which the body's immune system accepts. Our implant dentists in Edinburgh have many years' experience in providing dental implants for Edinburgh and the Portobello, Leith and Musselburgh areas. 
We are often asked about the cost of dental implants. For our patients, the implants cost (over their lifetime) is comparable to conventional dentistry, and the procedure does not damage surrounding teeth when a crown or bridge is used to fill a gap. Dental implants overall are a very cost-effective option. Please call our practice today, or request an appointment online.   Tel. 0131 669 2114

Suggested Links
Our Fees
Contact The Practice