Reformat your smile with discreet braces in Edinburgh
Metal braces have gone out of style but they are still a great way to align your teeth and get rid of bite problems. However, over the years an increasing number of adults have turned to alternative teeth straightening routes. Luckily, dental technology has come a long way and you can now benefit from other treatments which offer the same results as conventional braces without the trouble caused by metal brackets and wires.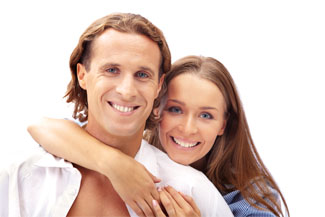 At Craigentinny, we offer a comprehensive range of discreet braces in Edinburgh, so that you can straighten your teeth without bringing too much attention to your mouth. In order to determine which treatment is best for you, simply book a consultation appointment and we will examine your teeth carefully.
Six Month Smiles
Six Month Smiles is a ground-breaking teeth straightening technique that can move your teeth into their correct positions within 6 months (or less!). Unlike traditional braces, Six Month Smiles braces in Edinburgh blend in with your natural teeth because they are made of transparent brackets. Six Month Smiles braces do not change the position of your bite and are more comfortable to wear than regular braces. These braces focus only on your front 6 teeth (the 'social 6') and work for almost everyone who wishes to have a straighter smile quickly and effectively.
Invisalign
Invisalign aligners help straighten your teeth with the power of 3D technology. The system consists of a series of plastic, removable, customised aligners that help position your teeth correctly over a specific period of time. At first, we will examine your teeth in order to check whether Invisalign is the right treatment for you and if you decide to proceed, we will eventually create your customised aligners. Simply wear them every day for at least 22 hours and take them out only when you have to eat, drink anything but water, brush and/or floss your teeth.
The Inman aligner
The Inman aligner is a discreet, removable device, which can fix problems such as crowding and protrusion of the front teeth. This straightening system consists of a pair of opposing bows that put force against each other, efficiently pushing and pulling your teeth into alignment.