Worried about having braces fitted? Different types of braces we can offer you at Craigentinny in Edinburgh
Say the word 'brace' to most dental patients and they will make a quick exit from the room. The negative connotations that surround braces are almost universal and many patients are unaware of the different types of braces available through advances in dentistry.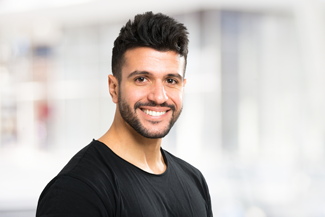 At Craigentinny, we are aware that being told you need braces in Edinburgh can feel daunting but fret not. At our surgery, depending on the severity of your misalignment, our dental team will be able to offer you different types of aligners and braces, to help you achieve a straighter, healthier smile.
Cosmetic braces
It can seem like a strange idea, but many adults and even teenagers are able to undertake cosmetic braces in Edinburgh. Unlike traditional orthodontic braces which help restore functionality and correct malocclusions, cosmetic braces help straighten the teeth at the front of your mouth, to enhance your smile and boost your confidence.
So, what are the different types of brace or aligner we can offer at Craigentinny?
Inman aligner
The Inman aligner is a removable, clear brace that has an accelerated treatment time. One of our more popular braces in Edinburgh, this aligner uses coil springs and opposing bows to guide the teeth into their new position.
After it is fitted, you will be required to wear it for 16-20 hours a day and you will need to have regular check ups every 2-3 weeks. The treatment time with the Inman Aligner varies, but most cases are completed within 6-18 weeks.
Six Months Smile
This brace does exactly what is says on the tin; the average treatment time for the Six Months Smile brace is 6 months, with many treatments being shorter.
A brace that is suitable for anyone over the age of 16, who has crooked, spaced or moderate misalignment, this brace can either be removable or fitted, depending on the severity of the malocclusion.
The aligners or braces are made of a soft, flexible plastic, to provide you with maximum comfort throughout your treatment and the Six Month Smile aligner provides you with a faster and more predictable outcome than other aligners.
Clear braces
The most popular type of brace used in adult cosmetic dentistry is that of the clear or invisible braces. At Craigentinny, we are proud to be able to offer our patients the famous Invisalign braces, to provide a discreet way to correct their teeth in a minimal amount of time.
Clear braces are removable and must be worn for 20 hours a day to be efficient. As they are both removable and invisible, these are the best option for people with busy schedules or jobs that rely on a flawless appearance.
The average treatment time of the Invisalign aligner is 12 months, but with the slightly longer regimen time comes more predictability and a reduced time wearing a retainer post treatment.
Call us today for more information on our cosmetic braces.