Curious about fast adult orthodontics? Braces and aligners our team can offer you at Craigentinny
Once associated with young children, aligners and other forms of orthodontic treatments are now becoming more popular with adults.
As an adult or even a teenager, it can seem strange to pursue orthodontic treatments. There is a somewhat persistent idea amongst the general public that aligners can only help children get straighter teeth, that if you missed the window of opportunity as a child, you will have to accept your crooked teeth forever!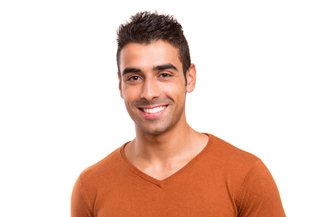 Luckily, this is not the case anymore!
At Craigentinny, we are able to offer all of our adult and teenage patients a range of braces in Edinburgh, including the world-famous Invisalign and the Inman Aligner. Our dentists will take time to assess which aligner is best suited to you, helping you get the smile you deserve faster!
So, when looking for braces in Edinburgh, which types are available? Read on for a brief overview of the aligners we have to offer at Craigentinny.
Invisalign
The closest you will ever get to a truly invisible aligner, Invisalign is one of our more popular braces in Edinburgh.
Suitable for those who have mild to moderate misalignment issues, this aligner is custom-fitted to fit over your teeth like a glove, for maximum comfort and stability. Using a set of opposing coils, this aligner moves your teeth gently over several months into their new positions, without causing discomfort or requiring tightening.
Our dental team at Craigentinny will assess your suitability for the Invisalign aligner; if you are suitable, we will take a 3-D scan of your mouth and using computer technology, show you how your teeth are going to move over the next few months, to help you recognise the progress you will make.
Inman Aligner
Perfect for correcting teeth that require minimal movement, the Inman Aligner offers an accelerated treatment option for adults.
Working in as little as 18 weeks, this aligner is fully removable and can be fitted around a busy lifestyle, while also helping get your teeth into their desired position.
Similar to Invisalign, the Inman Aligner uses opposing coils to move your teeth into their new position, causing a larger range of movement than Invisalign but offering faster results.
You will need to wear the aligner for up to 20 hours per day, depending on the advice of one of Craigentinny's Inman Aligner specialists, and we will need to see you on average every 3 weeks to ensure that the treatment is working correctly.
Six Month Smiles
It's all in the name!
A fixed system that offers additional predictability versus both the Inman Aligner and Invisalign, Six Month Smiles can help correct a wider range of dental issues, without causing discomfort.
The brackets of this aligner are matched to your teeth, while the wires may be slightly noticeable but not strikingly so. Worn for an average of 24 weeks, this aligner is powerful and extremely successful at realigning crooked or misaligned teeth.
Want to know more about our range of aligners for adults? Contact Craigentinny today!